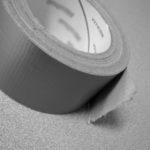 The handy mans secret weapon…
Red Green would say.  He could build, fix, re-fix, and fix again anything, using duct tape as his "secret weapon".  I've become a fan of duct tape as well.  Now, instead of limiting me to furnace grey, it comes in all kinds of colors, and patterns.  Finally my fashion needs have been answered.  I could even join the legion of fanatics creating prom dresses, and formal evening attire…but I wont.  I will however, stick it to my more conventional projects, and I may even use some of those colors or camouflage patterns.  I also discovered a great practical use with one of my Executive Coaching clients recently.
Gary owns a very significant company.  Significant in many respects.  Significant in that he is very profitable, benefitting himself, his family, and his employees.  Significant in that his customers see him as #1 in their supply chain for his product and service.  And significant in that he has successfully continued the tradition set by his grandfather, his father, and hopefully in a legacy he will pass on to his children when they take over this significant family business as the 4th generation of owners.
Gary initially thought he hired me to help with strategic planning.  This is a  common point of entry discussion with my prospects and new clients.  I explained to Gary that all of my work begins with Executive Coaching.  Gary stiffened and said, "I don't need a coach, or an outsider telling me how to run my company.  I've got my dad, and my grandfather (bless his soul) to continue to guide me.   And soon, I will do the same for my daughter and sons.  You need to realize Steve, this is a family business.  There's lots of family issues that outsiders don't get involved in".
After explaining that Executive Coaching also develops initial trust between us, and helps to dig deeper beyond the surface symptoms into core critical issues to develop an agenda for strategic planning, he smiled a bit, and said, "look…I told you, My dad will continue to advise me, and what I need here from you are some good forms for putting a new business plan together".
With that stern directive (that frankly I have heard too many times) I stood up, and thanked him for his time.  As we shook hands, I calmly said – Gary, when your Dad is gone, and you need to look forward, call me…Im really good at this, and I can help you.
 I could tell he was offended…as most are, initially. 
But then he called me back, as so many do.
 Gary's father did not pass away.  Gary's father was still around.  Perhaps he was around too much.  Like most family business implosions, it typically begins with, and is rooted not a business issue, but in a family issue.
Seems like Gary had chosen his daughter to take the lead in the company as Gary considered his own exit strategy.  Gary also has two sons.  One older, and one younger than Debra.  Gary Jr. is just that.  He is only a junior, and has no entrepreneurial spirit or work ethic beyond looking at his bank account to see if the dividend deposit hit from the quarterly financial report.  Gary Sr. had done well to spoil his first son, and the limitations were obvious.
Ted is a bright young man, and perhaps has inherited some generation skipping intelligence and spirit from his grandfather.  But Ted has his own aspirations, and entrepreneurial spirit and has already begun his own significant business venture with great promise.
You might think the story concludes with Debra being the last option for Gary as his successor.  Hardly the truth.  Debra had actually been his first choice since a young age.  She was bright – Check.  She was entrepreneurial – check.  She has an MBA – check.  She has worked for four years at another business – check.  But there was one major difference in Debra over Gary jr. or Ted.  In simple terms…she wants it.  She is driven to continue the significant legacy set by her great grandfather.  She is passionate about this significant business to the point that nothing else matters in her business life.  She gets it, and she has self selected herself as the active successor, a key ingredient in a successful family business ownership transition.
So What does this have to do with duct tape?
 It seems Gary's father, a generation removed, was not very receptive to Gary's choice for ownership transition.  His father James said, "why would a girl want to work in this business anyway?  She has no financial need to work.  This significant business has provided a significant foundation for her personal wealth.  And, this new husband of hers comes with a nice job and a great future.  This girl does not need to work.  I told both Gary jr. and Ted this last week when I convinced them to re-join us here."
 Unknown to Gary, his father James, had gone behind his back, to derail the succession of Debra, only because she was female.
 As I mentioned earlier, most family business implosions, typically begin with a family issue, not a business issue.  James had stepped over the line of advising his son Gary on the significant issues of running this significant business.  All of the sage advice and savvy he had, and might continue to pass along to Gary was now wiped clean with one fateful violation of Gary's commitment to his own family.
When Gary called me, he only said some things had changed, and it might be a good time for us to talk.  It was at that meeting I learned James had not passed away, but was gone.  The estrangement over a family issue had eliminated the trusted business connection between James and son Gary.  James was gone from the trusted advisory role he had inherited from his father and developed with his own son.  Gary was grieving.  He was beyond anger, and moving from the loneliness of work without his father, through the calmer upward turn, and working through other solutions.  But it wasn't easy for him.  Our Coaching relationship seemed to help in many ways, but I am not a grief counselor, and I am not a family therapist.  However, Gary could not remove himself from wanting those lessons of his grandfather and his father to continue to guide him.
We worked through the realization that the transition of ownership had already begun.  Debra had now been in this family business for 12 years.  And Gary had been advising and mentoring her, just as James had done for him, and his grandfather had provided for James.  The significance of passing of intellectual information was their secret sauce.  Through our coaching, Gary found it was time to focus on developing Debra for her significant opportunity.  Looking in the past now held less relative importance for Gary.  He had been through the cycle so many times, that a strong, bold forward look was in the waiting, and Debra was ready.
But Gary still missed those times with his Dad.  He and James were understandably close.  So Gary learned to rekindle the relationship with James as father and son, rather than boss and leader in training.  Gary finally realized he was also ready to be the significant leader that others, like Debra would look up to.  And Gary would focus forward into the future.
Looking Forward…
We found there were times Gary would hesitate and want to call James for some of that advice from history.  Typically that would happen during his quiet commute home, where he might call James from his car.  And, that's where the duct tape comes back to the story.  Gary and I decided a little bit of duct tape applied to his rear view mirror was a significant reminder that he should look forward through the windshield ahead.  There was so much to see when he focused forward, and moved beyond the view of the rear view mirror, covered in purple duct tape of course, his favorite color.
Gary found it was his time to lead.  It was his turn to provide a rear view mirror to others in his significant organization, and he would begin with Debra.  All of those significant people in his significant organization his significant, contagious, positive outlook for the future, looking ahead through the windshield.
There were still plenty of times Gary called James during the commute, but it was because he wanted to talk to his Dad.  And instead of business, they talked about Family stuff.  And the family healed, because it is all about family.  In the end, Gary agreed that is what is really significant.
Who benefits from leading through the rear view mirror?
What can you do to switch your outlook for the future, rather than to the past?
Where is your perspective focused towards your outlook for the future?
When should you alter the balance between the rear view mirror, and the windshield towards your outlook for the future?
How can the windshield provide a better outlook for the future, than the rear view mirror?
If you want to learn more about the Rare Leader™ in you, 
or if you are interested in retaining Steve as your Executive Coach,