I am often asked to share my expertise on a variety of topics. Some presentations are appropriate to share with new audiences, and some are tailored to a specific event or organization.  Each topic can be altered to fit your need as either a keynote presentation, an interactive audience seminar, or an in-depth workshop setting.
I have also been included as a "certified strategic credit" speaker at conventions/conferences, lunch speakers, keynote addresses, and within corporate training and development agendas.
I would be delighted to talk with you.
New! Leadership INSOMNIA Helping Leaders sleep through the night.
Recently: Are you an HR Pro? 25th Wisconsin SHRM State Conference, – "Discover the Rare Leader™"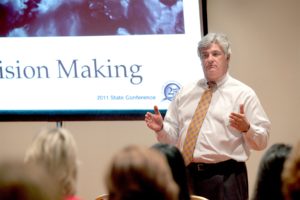 Some recent presentations include;
BizTimes Expo
State Conference – WSHRM
Wisconsin Solo and Small Law Firm Conference
Association of General Contractors – Annual Safety Conference
The Rare Leader
Annual SIFMA conference in Fort Lauderdale
Love, Power & Money – Family Business Between Generations
7 Habits of Successful Family Business Successors
What Would You Say…getting your point accepted in 3 minutes or less
Why Sales People Fail
Making Human Resources Strategic
Leading With Integrity
Applying Brand to identify Key Initiatives to drive Team Accountabilities in a growth environment
Establishing Trust in your Team
Assessing The Human Resources Function In Your Company
Effectively Working With A Team
So… you want to enjoy work? Is it a job, is it a career, or is it your Vocation?
Keeping Your Faith Authentic On Monday