When Jerry Bock and Sheldon Harnick collaborated on their famous song "Do you love me" from Fiddler on the roof, the combination of the melody and the pleading lyrics create a memorable phrase that seems to stay with you.  And finally after Tevye and Golde agree "I suppose I do", they join together and sing "After twenty-five years…It's nice to know".
So, lets change the lyrics a little bit, and with that same familiar echo of music, sing along with "Do you trust me?"  Now, I hope your team and peers at the executive table don't answer with a resounding "I suppose I do".  If you've been there for 10, 15, or even 25 years, "it's nice to know" that the answer might actually be "Yes…of course I trust you".
But…How do you know if you are trusted?
I had read, and re-read Patrick Lencioni's book the Five Dysfuncitons of a Team several times.  I thought, wow what a great concept, and it's so simple the way it lays out, and builds this triangle of the 5 stepping stones to a functional team.  (Absence of Trust, Fear of Conflict, Lack of Commitment,  Avoidance of Accountability, Inattention to Results)
Using his field book for leaders, I applied this concept to consulting with several leadership teams.  I began to speak publicly on the topic and conducted workshops, working the concepts of the dysfunctional team into my message.  But then I stopped.  I stopped the speaking.  I stopped the consulting, and I stopped the workshops.  Why?
I became concerned, because of the commonality of an "absence of trust".  I found that my audience would not understand the importance of trust deeply enough, to be able to throw away 10, 15, or 25 years of not trusting their leaders, their peers, or each other  to allow them to begin to experience true trust, and then move on towards conflict, commitment, accountability, and results.  I discovered that our precious world of leadership is so infested with trust issues, that good positive behaviors of leadership assertiveness were swallowed up by aggression, and then by passive aggressive partners.
But, I didn't stop completely.  I focused more clearly and passionately on the concept of trust, still believing that Lencioni is absolutely correct.  With an absence of Trust, Teams can not succeed.  I too began to practice personal vulnerabilities at home, and then at work.  It was a wonderful awakening and first step towards a stronger bond of trust with those close to me.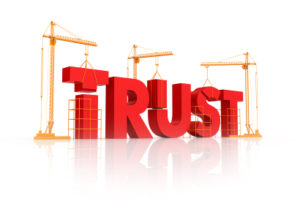 Trust will be built upon your foundation of both a genetic (nature) as well as an environmental (nurture) approach to relationships.   Someone told me a long time ago, that the best predictor of future behavior, is past behavior.  Perhaps it's time to start changing your soon to be past behavior.  But in the end, you, like me will need to identify the source of your trust issues, and attack them head on..with passion.  Hemingway said it well, "The best way to find out if you can trust somebody, is to trust them", perhaps as in the humorous 1971 commercial spot for Alka-Seltzer known as "Try it, you'll like it."
The 12 competencies and behaviors of the Rare Leader™ will take you nowhere without a few additional vital concepts crossing over and intersecting each competency.  Like Passion, Trust is one of these vital links to making all of your competencies work together, ensuring your seat at the table of other "Trusted" Leaders.
Who trusts you at work?
What is the greatest path to establishing trust?
Where have you seen trust contribute to success?
When has broken trust ever been a precursor of success?
How will you change others perceptions of trust in you?
If you want to learn more about the Rare Leader™ in you, 
or if you are interested in retaining Steve as your Executive Coach,