When I consider great leaders, I find there are several noteworthy styles or characteristics that overlap each of the 12 competencies. For example, every Rare Leader™ must be passionate about leading organizations and people. Passion in leadership is not rare, but being passionate about every aspect of leadership is missing in many leaders.  Passion is a differentiator in Leadership.
When discussing delegation as a competency of leadership recently with a forum of business owners, one of our members gave an enlightened view of delegation. While she feels self assured delegation focuses on; selecting the proper issue, providing clarity, establishing metrics for accountability, proper follow-up, and celebrating success, there was still something missing. She went on to say there is a responsibility for anyone who has reached a pinnacle of success to share their gift, especially  successful leaders. Great chefs share their gift by serving great food – with passion. Great authors share their gift through the books they passionately write. But what of the rest of us?  Do we share?  How do we share our gift of leadership?
My friend Cari is a professional bike racer with extensive national championship experience, and I fully expect to see her on the Olympic podium as track racing medalist. In addition to being a gifted athlete, she trains long and hard, and competes aggressively with that same drive and passion to achieve that we commonly see in a Rare Leader™.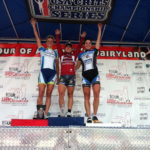 But Cari also shares her gift. You might guess correctly the USA cycling circuit is quite competitive. But Cari is on the forefront of sharing her gift with her fellow competitors. While she expects nothing but the ultimate success for herself, she is the first to cheer others on towards their success, and delights in helping them get there. Cari  seems to thrive on sharing her gift of cycling excellence with others.
While in Wisconsin for a grueling 11 day criterium road race, she shared our home with another rising star in the USA cycling circuit. Rather than avoiding, being aloof, or showing competitive arrogance, Cari and Jennifer were clearly partners for the 11 days together.  Cari shared every ounce of her competitive knowledge with Jennifer as if it was reserved only for herself. She knew just how much to push, prod, and in the end critique and reward Jennifer for her efforts each day.
Jennifer's competitive edge, confidence and success grew each day. When Jennifer received the award for most aggressive cyclist, Cari was the first to congratulate her. Through all of this effort of sharing, Cari also achieved significant success each day, and in cumulative points. Since that week of sharing, Jennifer has been on a bit of a winning streak with a state criterium championship to her credit.
On the day of her final race, Cari boarded a plane for Indianapolis, not to race, but to mentor, coach and train a youth cycling team.  Cari is indeed passionate about sharing her gift.
This same passion for sharing our gift as a leader is what sets apart the Rare Leader™ from others. If you are a visionary, why not share it? If you have integrity, you should share it. Great leaders share their drive to achieve, and they share an inner strength which makes them unique. When you make a decision towards your outlook for the future, it means nothing if you do not share it.
The next time you feel success as a leader, think about Cari.  She enjoys her success even more when she shares her gifts with others…with passion.
Who shares their gifts with you?
What gift of leadership can you share?
Where are opportunities to share with others?
When will your passion to share become your focus?
How will you become more successful as a result of sharing with others?
If you want to learn more about the Rare Leader™ in you, 
or if you are interested in retaining Steve as your Executive Coach,